THE 2020 SFABF PUBLISHING GRANT
The San Francisco Art Book Fair (SFABF) is thrilled to announce the recipients of the 2020 SFABF Publishing Grant:
Sming Sming, BlackMass Publishing, Melissa Sáenz Gordon, Sun Night Editions, Unity Press, Dale Press, The Bettys, Felicita Maynard, Sharita Towne, The Free Black Women's Library, Brown Recluse, 3 Dot Zine, Homie House Press, WORK/PLAY, and Black Chalk & Co.
The
2020 SFABF Publishing Grant
was made possible due to the generous support of
Dropbox, Figma, Adobe and Chronicle Books
. It was awarded to 15 BIPOC publishers nominated and selected by a committee made up of
Paul John Jr.
of Endless Editions,
Lukaza Branfman-Verissimo
and a representative of SFABF. While we were unable to host a fair in 2020, SFABF hopes that these grants will help support our publishing community.
Sun Night Editions
is a fine art print publishing house in West Oakland, CA run by Yoni Asega and Drew Grasso. Sun Night was founded in 2019 with the overall goal of connecting artists of all mediums with their community through the power of print. The publishing house aims to bridge the gap from artists to collectors, institutions and non-profits. The shop provides artists the ability to create works in the traditional and contemporary screen printing, relief printing, monotype and bookbinding techniques. Over the past year they have published the prints of artists who not only work in a wide variety of mediums but come from different backgrounds. Sun Night Editions has concerned itself with sustaining and strengthening the diversity essential to any viable movement toward the liberation of all people. Image: Yétúndé Olágbajú, ♾, ed. of 30, 16x20, 100lb cougar white, singed and numbered, 2020 25% of proceeds go to People's Breakfast of Oakland. Purchase online at
Sun Night Editions
.
Sming Sming Books
is the publishing studio of artist Vivian Sming, experimenting with books as art, discourse, exhibition, and archive. Formed in 2017, the studio designs and publishes a wide range of artists' books, zines, and editions out of close collaboration with artists whose works and ideas inform design, material, and printing choices. Sming Sming Books is invested in creating books from practices that are challenging to represent on paper. They are committed to promoting critical discourse and advancing cultural equity through the format of publishing.
Unity
is a print space, small press, and queer skateboarding project based in Oakland, CA. Their efforts are centered on supporting publications by queer + trans people and POC. Unity also aims to make printing resources accessible for local communities.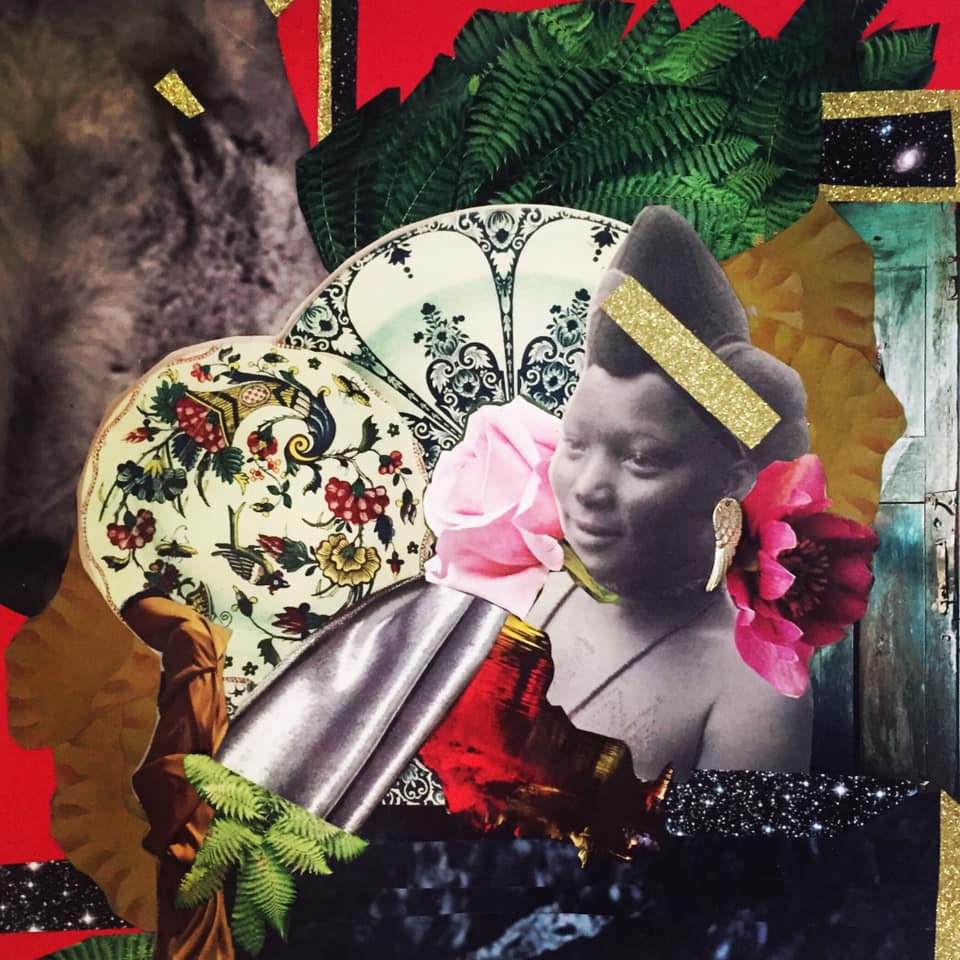 OlaRonke Akinmowo is a Black feminist nerd, award-winning set decorator and interdisciplinary artist who makes hand-cut collages, one-of-a-kind monotypes, handmade paper, stop-motion animations and interactive installations. She is also the creator and director of
The Free Black Women's Library
, a social art project and mobile library that features a collection of 3,000 books written by Black women. The library pops up monthly in free public spaces throughout NYC, and sometimes it even travels outside of NYC. The library activates these spaces through interactive workshops, performances, games, book discussions and radical conversations. All ages, races and genders are welcome to come to spend time in the library, take part in all events and trade books written by Black women with the collection. She is deeply invested in creating beautiful spaces and counternarratives around race, culture and gender, that are rooted in ritual, tenderness and community care. Ola has received fellowships and grants from various institutions such as Brooklyn Arts Council, The Laundromat Project, Culture Push, The Robert Blackburn Printmaking Shop and the New York Foundation of the Arts. She is a single mom of one child and several plants, living and loving in her hometown, the village known as Bedstuy, Brooklyn.
BlackMass Publishing
was founded by New York-based artist Yusuf Hassan, though its beginnings lie in a project devised by Hassan and a handful of fellow artists, in which they combined their practices in a printed, spiral-bound edition. The book, titled
Project BlackMass
, never went to press, but it was quickly acquired by the Schomburg Center for Research in Black Studies. The publisher has gone on to produce zines and books by Black artists, with visuals, prose and poetry, many of which have also been acquired by various collecting institutions. They take an experimental, improvisational approach to visual language and pay particular attention to the physicality of their projects. "My rule is, I'll print on anything as long as it'll feed through the printer," says Hassan. In recent months, frequent collaborator and founding member Kwamé Sorrell launched an international mail-art initiative to continue and expand the conversation around Black art across the diaspora. Hassan and Sorrell continue to work in tandem in developing programming around Black storytelling through print media.
Devin N. Morris is a Brooklyn-based artist interested in abstracting American life and subverting traditional value systems through the exploration of identity, memory, and grief in mixed-media paintings, photographs, writings and video. Morris was recently in
The Aesthetics of Matter
, the first NYC curatorial project by Deux Femme Noires: Mickalene Thomas and Racquel Chevremont. He was also featured in the New Museum's
MOTHA and Chris E. Vargas: Consciousness Razing—The Stonewall Re-Memorialization Project
, and the two-person show
Inside, Out Here
at La MaMa Galleria, curated by Eric Booker (exhibition coordinator at the Studio Museum). Morris is the founder of
3 Dot Zine
, an annual publication that serves as a forum for marginalized concerns. 3 Dot Zine recently hosted the Brown Paper Zine & Small Press Fair with the Studio Museum in Harlem and created a site-specific installation at the MoMA PS1 2018 NY Art Book Fair.
Dale Zine
, established 2009 in Miami, is an independent printer and publisher with the goal of giving a platform to multimedia artists and designers. With humble beginnings as a zine collaboration about Garfield, Dale has broadened into something of an open cultural space for the Miami community, with offerings ranging from all-age zine workshops to our independent radio show, pop-up events, and most recently a storefront in Downtown Miami. Collaborations of note include those with Tim Biskup, Matt Furie, Legowelt, Friendswithyou, to name just a few of our over their 75 titles and counting.
Felicita "Felli" Maynard
is a New York City-based interdisciplinary artist and educator. They received their BFA from Brooklyn College, with a concentration in film photography. As a first generation Afrolatinx-American, their work uses photography to investigate and explore identity, gender, and history when related to the Black body. They challenge and re-write history by means of their work. Maynard has shown work at the African American Museum in Philadelphia, Westchester Community College, Spectrum Gallery at MCLA college, Brooklyn Photoville and Pen + Brush Gallery. Maynard is currently a Queer | Art Mentorship Fellow working with photographer Lola Flash, a Smack Mellon Art Ready Mentor and a teaching assistant at the Penumbra Foundation.
WORK/PLAY
is an interdisciplinary design/art duo based in St. Louis, Missouri started by Danielle and Kevin McCoy. Kevin received a BFA in Graphic Communication from the University of Missouri-St. Louis and his MFA from the Sam Fox School of Design and Visual Arts, Washington University in St. Louis. Danielle is a conceptual artist, writer, and educator. Together, they rely on a personal archive of unfamiliar information, redacted histories, and images from popular culture to explore racial inequality, identity, and erasure. The duo has exhibited both locally and nationally.
America's Mythic Time
, The Luminary, St. Louis, MO;
Small Talk
at Crystal Bridges Museum of American Art, Bentonville, AR;
SPF 1991
at projects+gallery, St. Louis, MO;
Dream Wavers
at Laband Gallery, Loyola Marymount University, Los Angeles, CA;
Overview is a Place
at SPRING/BREAK Art Show in New York, New York, NY;
Change of State
at The Wassaic Projects in Wassaic, NY. Recent book fairs include Printed Matter's LA Art Book Fair in Los Angeles, CA; Chicago Art Book Fair in Chicago, IL; Small Press Expo in St. Louis, MO; Fully Booked Art Fair in Dubai, UAE and Engaged Edition in New York, NY.
Adriana Monsalve and Caterina Ragg spearhead the multifaceted space of
Homie House Press
. They are a skeleton crew of femmes creating and publishing in the foto book medium. They are photographers, book makers, and educators holding space for and with underrepresented communities. They are a playground where fotos become books, a safe space for secret stories and an open house for honest content. Find them migrating through the in-betweenness of all that we are.
Sharita Towne
is a multidisciplinary artist and educator based in Portland, OR. Born and raised on the West Coast of the U.S. along Interstate 5 from Salem, OR, to Tacoma, WA and down to Sacramento, CA, Sharita is a true granddaughter of the great migration. She is most interested in engaging local and global Black geographies, histories, and possibilities. In her work, a shared art penetrates and binds people–artists, audience, organizers, civic structures, sisters, cousins, and landscape–in collective catharsis, grief, and joy. Sharita holds a BA from UC Berkeley, an MFA from Portland State University, and was recently appointed Program Head of the Pacific Northwest College of Art's MFA in Visual Studies. She self-publishes under the collaborative project
URe:AD Press
(United Re:Public of the African Diaspora).
Founded in 2015,
Black Chalk & Co
. is a creative agency bringing together writers, artists, designers, academics, and technologists with a mutual interest in publishing, curating conversations and exhibitions, and facilitating teaching residencies. What animates all these activities is the effort to engender a new culture and new forms of publishing and creative production. Their work has led to a run of synchronized events, screenings, and public talks. The founding partners, Tinashe Mushakavanhu and Nontsikelelo Mutiti, operate between Harare and Richmond, VA. Image:
SOME WRITERS CAN GIVE YOU TWO HEARTBEATS
This limited edition paperback was printed in 2019 at Cassochrome in Belgium. The publication is 5.5 x 8 inches with 258 pages. ISBN: 978-0-7974-9573-9.
The Bettys
is an innovative art community concept founded by Salvadoran-American Aurora Diaz in 2014. Throughout its tenure, The Bettys has been an outlet for authentic and experimental creative environments. The Bettys has shown at multiple art book/zine fairs across America, distributing and collaborating with emerging artists whose intersections make it harder to be in the rich cis-man's world more commonly referred to as 'The Art World.'
Melissa Sáenz Gordon
is a cultural worker, editor, and photographer based in Ridgewood, Queens. In 2020, she co-founded Soft Power Vote, an independent civic engagement initiative centered on NYC politics. For over 15 years, Melissa has documented the nuance of everyday life through film photography, a practice born out of preserving the cultural landscape of San Francisco, her hometown. Melissa understands the social impact and power of representation and utilizes the camera as a tool for social justice. Her work has been featured in Remezcla, SFMOMA's Open Space, and Whetstone Magazine. She's participated in the Press Play Fair hosted by Pioneer Works, New Latin Wave Festival, Brooklyn Art Book Fair, and the Los Angeles Art Book Fair by Printed Matter.
Brown Recluse
is a collectively run zine distro for Black, Indigenous, People of Color based on Ohlone lands. This project was born out of passion for zines and frustration at the lack of representation and meaningful zine material for BIPOC. This project is a collaboration by QTBIPOC directly to QTBIPOC, connecting marginalized voices to marginalized readers. Their aim is to disseminate print media affordably and effectively to communities of color, strengthening our ties and highlighting our intersectional, relatable experiences.

FUNDRAISING EDITIONS FOR BLACK LIVES MATTER GLOBAL NETWORK