THE 2023 SAN FRANCISCO ART BOOK FAIR
Presented by Minnesota Street Project Foundation
July 14 – 16, 2023
Preview: Thursday, July 13

Minnesota Street Project
1275 Minnesota Street
San Francisco, CA 94107

Public Hours - Free admission
Thursday, July 13: 6pm – 10pm
Friday, July 14: 11am – 6pm
Saturday, July 15: 11am – 6pm
Sunday, July 16: 11am – 5pm

The
San Francisco Art Book Fair
(SFABF) is pleased to announce its sixth year at Minnesota Street Project. Open July 14 through July 16, 2023, with a preview the evening of July 13th, the
SFABF
is a free annual multi-day exhibition and celebration of printed material from independent publishers, artists, designers, collectors, and enthusiasts from around the world.
The fair places the unique history and perspectives of the Bay Area in conversation with national and international publishing communities.
Free and open to the public
, SFABF features artists' books, art catalogs, monographs, periodicals, zines, printed ephemera, and artists' multiples. Throughout the weekend, visitors to the fair are welcome to experience a diverse range of talks, performances, book launches, special projects, exhibitions, and signings across the Project's contemporary art campus, as well as select off-site projects and events.
Sponsored by the Minnesota Street Project Foundation, SFABF's mission is to help sustain the creation and distribution of printed material through support of the independent publishing community from the Bay Area and beyond, and to expand our reach to new audiences.
We look forward to seeing you all and catching up in July at the
2023 San Francisco Art Book Fair
!
EXHIBITOR APPLICATIONS ARE CLOSED
The
deadline
for applications was
Wednesday, March 22, 11:59 PST
. Acceptance is not guaranteed due to limited space. All applications are reviewed by a committee and you will be notified of their decision by May 15. Applicants will be notified on a rolling basis.
As always, please subscribe to our
mailing list
for the most up-to-date announcements and information. If you have further questions you can email the fair at
info@sfartbookfair.com
. For press inquiries, email
press@sfartbookfair.com
.
If you would like to
volunteer
, please email
volunteering@sfartbookfair.com
.
The SFABF is organized by
Park Life
,
Colpa
and
Minnesota Street Project
and presented by Minnesota Street Project Foundation. It is fiscally sponsored by Independent Arts & Media. The Director of Programming is David Senior. SFABF's 2023 branding and identity by
David Kasprzak
.
COVID POLICY
In response to ongoing concern with the Covid-19 virus, we are asking exhibitors and the general public to
wear masks at all times
. We will be monitoring and controlling crowd attendance, circulating air, and regularly cleaning surfaces.
FUNDRAISING EDITIONS
All proceeds go towards keeping SFABF FREE and OPEN to the public. Shipping included.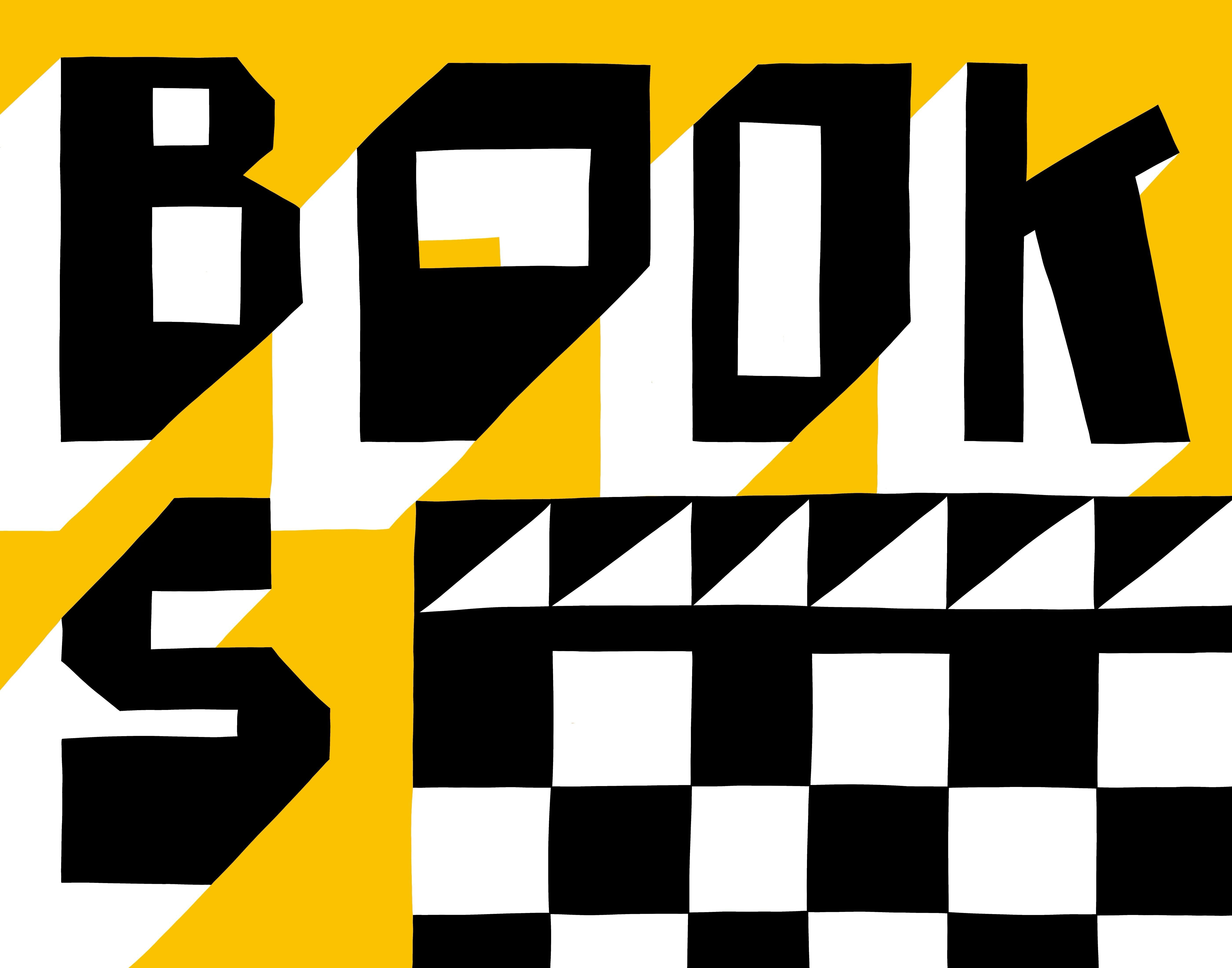 Jeffrey Sincich
Books (Yellow)
11x14 inches
Screen Print on archival paper
Edition of 100
Signed & dated
Printed by Nat Swope
2022 SFABF Edition





Jeffrey Sincich
Books (Pink)
11x14 inches
Screen Print on archival paper (PINK colorway)
Edition of 100
Signed & dated
Printed by Nat Swope
2022 SFABF Edition




Alicia McCarthy Tote
4 color Screen Print
100% Canvas Tote Bag
Edition of 150
Printed by CULK
2022 SFABF Edition


Sadie Barnette
Change Everything
Enamel Pin
Edition of 200
Courtesy of the artist
2019 SFABF Edition




Alicia McCarthy
2 color Risograph Print
11 x 17 inches
Edition of 500
Printed by Colpa Press
2016 SFABF Edition





Will Rogan
Mediums 2 spread
Giclée Print
17 x 11 inches
Edition of 24
Printed by Lightsource SF
2018 SFABF Edition



KOAK
Tangled in Milk
2 color Risograph Print
11 x 14 inches
Edition of 250
Printed by Colpa Press
2017 SFABF Edition

SOLD OUT

Chris Johanson & Lonnie Holley
Paulson Fontaine Press
At Looking
24pp, 7 x 4 1/2 inches
Edition of 400
Printed by Tiny Splendor
2017 SFABF Edition



THE 2022 SF ART BOOK FAIR
1275 Minnesota Street
San Francisco, CA 94107
Thursday, July 14 - 6pm – 10pm
Friday, July 15 - 11am – 6pm
Saturday, July 16 - 11am – 6pm
Sunday, July 17 - 11am – 5pm
Photo: Jenna Garrett
EXHIBITORS
Photo: Jenna Garrett
PROGRAMMING

Our Director of Programming is David Senior.
To download the 2022 SFABF program guide, click here.


The Lounge
Friday, July 15

12-1pm
Publishing Spaces: Chroma × Practise with Alexis Tompkins, Emily Poole, and James Goggin

Chroma and Practise are both design studios with processes rooted in research and scholarship around art, architecture, design history, and contemporary culture. For Chroma, this work results in physical (and occasionally virtual) interior spaces (like this year's SFABF public program space). For Practise, it manifests in digital and printed spaces (like some of the books on display at SFABF). Emily Poole (Brand Manager, Chroma) will moderate a discussion between Alexis Tompkins (Creative Partner, Chroma) and James Goggin (Partner, Practise) accompanied by a presentation showing a common spatial language evident in three particular projects: a virtual apartment, a printed zine, and a new quarterly online journal.

1-2pm
Fair Enough with Izet Sheshivari

Fair Enough is an alliance of four independent art book publishers from Switzerland: Boabooks, edition fink, Jungle Books and tria publishing platform. They represent each other internationally at book fairs and jointly take care of the sales and distribution of publications. Izet Sheshivari from Boabooks and Fair Enough, will share more about how the alliance has realized alternative modes of book distribution in Japan as well as Switzerland. He will share notes of the alliance's journey so far and share their experiences, as well as giving some insight into the ideas, relationships, and new public they have found with this model. Sponsored by Swissnex.

2-3pm
Pandemic Publics: Expansive Publishing Practices in a Time of Contagion with Josh Schaedel (Fulcrum Press), Zoë Taleporos and Sarah Hotchkiss (Premiere, Jr.) and Daniel J. Glendening (Labor is a Medium), moderated by Alex Lukas

The delineation of roles within the field of artists' publications is slippery. The ability to morph from artist to publisher to printer, organizer, curator, editor, or audience member is a hallmark of the medium. We are resourcefully multifaceted makers, and our publications are, in short, community affairs. As COVID-19 redefined the ways we interact, artists and publishers were forced to not only reconsider what it means to "make public" but what "public" itself entails. In the midst of this isolating time, the participants in this panel discussion redefined notions of shared space, proposed radical forums for community, and created new and expansive modes of collaboration. Our conversation will focus on these efforts to push and redefine what a publishing practice can encompass during a pandemic. Presented by Written Names Fanzine.

3-4pm
What happens between the knots? BARBEDWIRE Scores performed by Phillip Greenlief

What happens between the knots? is the third book in the annual A Series of Open Questions published by CCA Wattis Institute for Contemporary Arts and Sternberg Press. Each book in the series includes newly commissioned writing as well a selection of perspectives, images, and references related to the Wattis's year-long research seasons dedicated to single artists. This third volume is informed by themes found in the work of Cecilia Vicuña, including ecofeminism, indigenous forms of knowledge, poetry and politics, dissolution and extinction, exile, dematerialization, regeneration, and environmental responsibility.

For this book launch, musician Phillip Greenlief (tenor saxophone, Bb clarinet), Kyle Bruckmann (oboe, English horn), and Madalyn Merkey (live electronics) perform a selection of Greenlief's graphic BARBEDWIRE Scores, some of which are included in What happens between the knots? When performing a score, each player improvises for a set duration, loosely following one of three lines as drawn by Greenlief. The shape of the line informs how much (or how little) the musicians change their improvisatory behavior.

4-5pm
The Floating Museum by Lynn Hershman Leeson in conversation with David Senior

The Floating Museum was a temporary museum that, over its lifetime, from 1974-1978 commissioned over 350 artists to create work that existed outside the very limited boundaries of traditional museum spaces. It was intended to "recycle space" wherever it existed, from the walls of San Quentin prison to the landscapes of Fort Point and even the Bay Area Rapid Transit Artists used mediums not yet accepted by traditional museums and galleries, such as performance, photography, comic drawings, video, soundscapes and all manner of site specific locations (though that term had not been yet invented). It was designed to be temporary. Its structure became the model for Creative Time and PS1, amongst others. Though the archive is in Stanford University's Special Collections Library, its history was unknown. This was the motivation of this book, to make accessible this influential project so that it could be added to the history of that time.

5-6pm
Keko Jackson & Lava Thomas: In Conversation

This conversation celebrates two new books, Keko Jackson: Restored/Access and Lava Thomas: Homecoming, published by Sming Sming Books. In Restored/Access, Jackson combines photography with archival materials from his uncle's collection to share the history of Allensworth, the first town in California to be founded, financed, and governed exclusively by Black people. Homecoming brings together Thomas's intricate drawing installations that explore personal and cultural narratives of bravery and survival, including a new body of work Decatur, about Thomas's great-great- great-grandfather, Charles H. Arthur, and the eight-year- long legal battle to receive his army pension. Jackson and Thomas will be discussing their respective projects and the ways they draw upon Black family archives to create work, share US history, and build community. Presented by Sming Sming Books.


Saturday, July 16

11am-12pm
Bay Area Contemporary Art Archive: Building a Community Archive

The Bay Area Contemporary Art Archive (BACAA) is a public archive: a receptacle, preservation society and venue for the ephemera of Bay Area contemporary artists, venues and related projects. BACAA has been collecting and digitizing thousands of postcards, press releases, posters, zines, and more, while creating an online venue to preserve and share the work of our local art scene. BACAA founder Lexa Walsh will present an overview of the project and its vast contents, how Bay Area artists, curators and collectors can participate, and the importance of community-sourced archives.

12-1pm
The Southeast San Francisco Regional Portfolio: An Art-Based Conversation with 4 Neighborhoods

The Southeast San Francisco Artists Portfolio is composed of print reproductions of work from artists of the four neighborhoods of Southeast SF. The Portfolio is designed to find its way into the hands of local residents via Chispa, a mobile cultural hub that houses the Portfolio and acts as a base for artistic exchange. Come hear from: artist and curator Kate Connell, who co-developed Chispa along with Book & Wheel partner Oscar Melara; artist Amy Diaz-Infante, whose work was reproduced for the Portfolio; and Bayview historian Aliyah Dunn-Salahuddin, who will contextualize the project and its importance to the folx in Southeast SF. You're invited to visit Chispa at SFABF, where you can trade for art from the Portfolio.

1-2pm
I Got Something to Say: Poster Inventory, 2013-2021 by Draw Down Books

The founders of Draw Down Books, graphic designers Christopher Sleboda and Kathleen Sleboda, will discuss their 2022 publication, I Got Something to Say — Poster Inventory, 2013–2021, with a contributor—graphic designer and educator Mary Yang; a frequent collaborator—illustrator Tim Lahan; and a colleague—graphic designer, educator and type designer Javier Viramontes. The panel will speak about poster design, participation in art books fairs as exhibitors, collectors, and designers; and collaborative publications that bring together different voices and perspectives.

2-3pm
Media Burn: Ant Farm and the Making of an Image with Chip Lord and Steve Seid

In Media Burn, Ant Farm's legendary 1975 performance, a radically customized Cadillac is driven through a wall of burning television sets. Media Burn: Ant Farm and the Making of an Image, by Steve Seid, is a vibrant assessment of the complex set of cultural references and art-making strategies informing this collision of twentieth-century icons. Chip Lord of Ant Farm and Steve Seid will discuss Media Burn alongside a narrated slideshow of images, ephemera, and more. Co-presented by Inventory Press and RITE Editions.

3-4pm
Strikethrough: Radical Publications at Letterform Archive

Letterform Archive's next in-house exhibition is Strikethrough: Typographic Messages of Protest. In this sneak peek of the show, before it opens on July 23, co- curator Stephen Coles will present some highlights of special interest to Art Book Fair attendees: independent publications. From Fire!!, to The Crisis, from One to The Black Panther, activists throughout the 20th century wielded language, design, and newly accessible reproduction techniques to spread their message, empower communities, and fight oppression.

4-5pm
The Last Survivor is the First Suspect, coming of age in Amerika with Nick Haymes

A conversation with Nick Haymes about coming of age in Amerika based on his latest book. The Last Survivor is the First Suspect is at once a celebration and a requiem. The project, captured between 2005 and 2009 by photographer Nick Haymes, is a record of a drifting community of young friends based mainly between two distinct geographic points: Southern California and Tulsa, Oklahoma. The book's narrative merges a sense of joy in documenting burgeoning friendships and bonds, and a looming sense of dread that would ultimately culminate in a series of tragedies. Haymes invites us to form a contemporary engagement with this specific historic moment, where things are both different and the same in equal measure. Presented by Kodoji Press.

5-6pm
Gravity Spells II: Bay Area New Music and Expanded Cinema Art, with John Davis and Konrad Steiner

Recently released by Bimodal Press, Gravity Spells II is a multimedia "bundle" featuring 2 LPs, 4 DVDs, a perfect bound letterpress booklet, packaged in a hand-printed sleeve designed to give form to the ineffable - a physical set of transposable time-based variables that, when combined, approximate the uncanny and unpredictable inherent in live cinema and music performance. For this event, John Davis and Konrad Steiner will perform an improvisational collaboration that unites sound and image. John performs music to complement Konrad's performance collage of original 16mm loops and samples from feature films.


Sunday, July 17

12-1pm
Rip Tales: Jay Defeo's Estocada and Other Pieces by Jordan Stein with Dena Beard

Curator and writer Jordan Stein in conversation with Dena Beard, executive director the The Lab, about Stein's first book, Rip Tales: Jay DeFeo's Estocada & Other Pieces. In addition to DeFeo, Rip Tales concerns creation and destruction in the works and lives of artists Zarouhie Abdalian, April Dawn Alison, Ruth Asawa, Lutz Bacher, Bruce Conner, Dewey Crumpler, Trisha Donnelly, and Vincent Fecteau. Presented by Soberscove Press.

1-2pm
The HIV Howler in conversation with Anthea Black

The HIV Howler is a global art newspaper published by Anthea Black and Jessica Whitbread that focuses on artists living with HIV. The paper is a forum for dialogue and a guide to navigating the vibrational ambiguities between art and AIDS policy, pathology, and community. Publisher Anthea Black will present on The HIV Howler editorial and wage equity work with poz artists, and host a dialogue with featured artists from recent themed issues on movement- migration, time+money, home, and spirit-substance.

2-3pm
UBI SUNT with Blaise Agüera y Arcas and James Goggin

Are we living in reality? Is this the past, or the future? And is there a human on the other side of this screen? These questions rear up and twist back on themselves in Ubi Sunt, a solipsistic first-person loop of a life in tech during COVID lockdown by Blaise Agüera y Arcas, a Fellow at Google Research who has invented AI and privacy technologies and written widely circulated essays at the intersections of machine intelligence, art, ethics, and social science. Is this book fiction or nonfiction? Though speculative, its historical material is accurate, and its present tense is drawn from life; some of its AI dialogs, too, are generated by interaction with a real large neural language model. Blaise will discuss the concept, influences, materiality, and collaborative process behind the book with graphic designer James Goggin, who will present the project's print and digital editions with live projection. Presented by Hat & Beard Press.

3-4pm
Salones de belleza /The Beauty Salons: Writers & poetas /Escritores & Poets at Aeromoto
Presented by Gato Negro Ediciones

Between 2017 and 2020, the Aeromoto public arts library in Mexico City organized a monthly series of bilingual readings, curated by Kit Schluter and Tatiana Lipkes. The gatherings, called Salón de belleza (Beauty Salon), brought together more than 70 poets and writers from many generations, contexts, and traditions, predominantly from Mexico and the United States, but also from various parts of Latin America and Europe. In these events, translation was used to bridge linguistic and cultural gaps between poets separated by political borders, and helped to create a space in which literatures of different origins and approaches could coexist. The result of this collective initiative was a unique cross-section of some of the most intriguing writing taking place in the Americas during the second decade of this century. Salones de belleza: Writers in Aeromoto gathers work from these writers—in a completely bilingual edition—many of whom are appearing in translation for the first time.

4-5pm
Cassandra Press Artist Zine series with a performative lecture by Christine Wang

Curated by Kandis Williams, the Cassandra Press Artist Zine series consists of contributions from a community of BIPOC artists, scholars, writers, and poets with the intention of asking such questions as: how can print formats like scripts, newspapers, and pamphlets be activated to produce new associations? And what voice or voices can we represent in simultaneity on the page? How does the virtual page act and operate in our social economies? The series includes artists manuel arturo abreu, Hannah Black, Rhea Dillon, Boz Garden, Christine Wang, and Charlotte Zhang, with future iterations to come. For this event, Christine Wang, who is featured in the 2022 Cassandra Press Artist Zine series, will be giving a performative lecture on personal art expenses in the hopes of improving artists' financial literacy and increasing financial transparency.


Media Room

Ongoing - LOOP

The Abominable Freedom
by Torsten Zenas Burns and Darrin Martin
Random Man Editions
(41 mins / 2006)

Originally shot video and appropriated film weaves together a musical celebration of the flesh, an egg from the missing link holds a skeleton key to our educational future. On a parallel world, life coaches made of bone and fur activate televisual coursework including circular zooming studies, cryptid folklore, spectral-mating, and etheric birthing techniques. Manifest destiny eludes its colonial past and takes refuge deep in our pagan libidinal nature.

Psychology Today
by Extreme Animals
Random Man Editions
(30 mins / 2021)

In information theory, the repetition of messages tends towards the obliteration of meaning. This theorem is vitally demonstrated in Extreme Animals' 2021 video Psychology Today, which traces the algorithmically accelerated decomposition of images from the post-millennial cultural imaginary: Shrek, the Joker, and other depressive icons of our interminable financial crisis inspire a legion of exhausted reenactments by children's birthday party workers and freelance Blender artists. Interwoven with motivational programming staged at depreciating levels of conviction, the final assembly speaks not so much to the experience of overstimulation as to the unique combination of sensory hypertrophy and apathy characteristic of life post-2020.

Sarah Klein Puts Paper to Motion
Misty Quartet, Sing the Hits, Stir the Beat, Fall Girl, Misty Duet
(15 mins / 2013-2021)

For the 2022 SFABF, Sarah Klein is presenting her books, posters, calendars and prints, under her Lower Falls imprint, as well as animations in the media room. Her work draws from personal and imagined iconographies that she spans fluidly between serialized, sequenced, and book forms. She looks to images for stories whose telling might be hidden or only suggested. Lone Star is a collaboration with David Kwan. Fall Girl includes music by Synchronized Watches.

Works on Paper: Animated Films by Meghana Bisineer, Martha Colburn, Jennifer Levonian, Peter Millard, Johan Rijpma, Paloma Trecka, Selina Trepp, curated by Clark Buckner and Sarah Klein. Presented by Telematic Media Arts.

Telematic is pleased to present Works on Paper, a curated screening of animated films by artists working with paint, paper, drawing, cut-out collage, and sculpture to produce time-based, moving image works. Attending to tangible materials, the films in this screening simultaneously foreground the artistic process and the labor required for their own creation. They mark the passage of time as chronicles of physical change. And they show how – with the right degree of creative imagination, focused attention, and sustained physical effort – the world is open to re-invention.

But I Love The Zine by Fiona McDougall
(16 mins / 2019)

But I Love The Zine is a short documentary exploring the enduring love in the Bay Area for zines — self-published, accessible, often artistic publications that offer an antidote to the disconnectedness of internet culture. In this documentary, viewers are introduced to a thriving small press community through interviews with publishers in their studios and at festivals like the East Bay Alternative Book and Zine fest. It features zine makers such as: Raphael Villet, Jeffrey Cheung, Max Stadnik, Jess Wu, and OMCA curator, Carin Adams, among others. Produced and Directed by Fiona McDougall.

Zium by Most Ancient
(60 mins / 2022)

Visit the Most Ancient arcade, a collection of point and click adventure games and surreal Virtual Reality worlds. Walk through an eroded habitat with ominous messaging, visit Zium: part zine and part museum walking simulator, and move through an eerie funhouse to discover hidden stories.

Tennesee Street
Saturday, July 16
11-6pm
Southeast San Francisco Artists Portfolio with Chispa

Chispa
is a roving art cart the size of a parade float. Wherever
Chispa
appears in Southeast San Francisco you'll find art, music and performances by Southeast SF artists.
Chispa
is a cross-cultural pollinator building connections between the Bayview/Hunters Point, The Excelsior, The Portola and Visitacion Valley. Sometimes
Chispa
events spread out on blankets for storytelling and neighborhood games, sometimes she broadcasts poetry, music and soundscapes. Prints by Southeast San Francisco artists are displayed on board
Chispa
. All of them are available for trade.
4-5pm
Noodz Noodz Noodz

Join
Mouth 2 Mouth
zine creators for an outdoor social gathering to celebrate the release of their second issue, "DEATH", featuring readings, activities, and snacks made by contributors. See and be seen. Touch and be touched. Taste and be tasted.
Ongoing
KunstCapades LIVE!
KunstCapades is an art-themed variety show/podcast hosted by Robyn Carliss, Tim Sullivan, and Josh Pieper. Guests from all points on the artist-curator-dealer-collector spectrum board a gondola up to the recording booth – Altitude, an alpine-island bar in an undisclosed, altitudinous San Francisco location – for conversation and cocktails. Listeners are treated to a rollicking agenda of absurd segments, including "Art Crimes," "eBay Today," "Let's Ask Tantum," "Bartender's Ballyhoo," and intel regarding local openings and calls for work. Join us for a multi-part, LIVE recording at the 2022 San Francisco Art Book Fair.
Ideomotor Drawing Sessions with Stephen Lichty
Book an appointment
- July 15, 16, 17
Stephen Lichty is taking appointments with individuals for his ongoing practice of automatic collaborative drawing. Each 30 minute session results in two identical carbon-transfer drawings, produced after holding a pen to a stack of papers with another person and allowing the shared non-conscious movement of the pen to determine the work. Sessions will take place during the fair on Tennessee St.
Project Room

Boo-Hooray Presents Underground Film: Jack Smith, John Waters, Andy Warhol

Boo-Hooray is proud to present an exhibition of ephemera and unseen photography from Jack Smith and the Lobster Landlordism, Andy Warhol and His Cronies, the Wonderful World of John Waters, and Kenneth Anger's Leather Daddy Occultism. Most of these artifacts have never before been publicly exhibited.
Centered on the work of four defining figures of American underground film and gay sensibility, the exhibition discloses these filmmakers' working processes and the development of their singular visual vocabularies. The photography, ephemera, and artwork contextualize each figure in the larger cultural milieus they invented, worked in, and confronted: the respective vibrant cultural scenes Warhol and Waters cultivated, Smith's bellicose relationship to the New York underground film scene, and Anger's clique of thelemite Hollywood aesthetes.
Included in the exhibition is behind-the-scenes photography of filmmaking and partying at The Factory; ephemera from the production, publicity, and distribution of John Waters' early films; artwork, flyers, and photography documenting Jack Smith's filmmaking and performance practice, as well as state repression of his work; and photography and ephemera spanning nearly 20 years of Kenneth Anger's queer, occult filmmaking. Together, these materials highlight the working and social lives of four legends of queer and underground cinema.
Boo-Hooray is dedicated to the organization, stabilization, and preservation of the 20th and 21st century cultural movements, specializing in ephemera, photography, and book arts. We place artists' and organizations' archives with universities and museums, publish and sell rare books, photography, ephemera, and art, and stage exhibitions all over the world. This exhibition includes guest curation by San Francisco's own Chris Veltri of Groove Merchant Records.
Signings


Friday, July 15

3pm - Michael Diamond - Untitled 8 fold - at Play Press - Z3

Saturday, July 16

12pm - Eva Lipman - Restraint & Desire - at TBW Books - A40

12pm - Eva Lipman - Derby - at TBW Books - A40

12pm - Christine Atkins - Essential Celebrations - at Play Press - Z3

1pm - Ruth Laskey - Twill Series - at Ratio 3 (co-published with RITE Editions) - E10

1pm - Michael Jang - Untitled - at Park Life - A9

1pm - Phil Jung - Windscreen - at TBW Books - A40

1pm - NIAD Art Center -"Me & My Gal" NIAD Fashion Book Launch & NIAD Fashion Show invitation- at NIAD - A24

1pm - Chris Johanson - Considering Unknow Know With What Is, And - at Altman Siegel - A20

2pm - IAN BATES "MEADOWLARK" - at Deadbeat Club - A39

2pm - Catherine Sieck - Orbiting Whorl- at Play Press - Z3

3pm - Nick Haymes - The Last Survivor is the First Suspect - at Kodoji Press - A04

4pm - SHIORI IKENO "SADO" - at Deadbeat Club - A39

Sunday, July 17

12pm - Ruth van Beek - Catlogue Flyer - at New Documents - A1

1pm - Jeremy Fish - Forever Ever After - at Paragon Books - Booth A25

2pm - Andrew Schoultz - Decade 2011-2021 - at Paragon Books - Booth A25

3pm - Felicia Chao - Sketchbook 6 - at Paragon Books - Booth A25


Photo: Jenna Garrett
2022 SFABF PUBLICATION GRANT

We were thrilled to present our 2022 SFABF Publication Grant courtesy of Edition One Books.
The recipient for the 2022 grant of $5k, selected from our pool of exhibitors, was The Fulcrum Press!

Founded in Los Angeles in 2014, The Fulcrum Press is a small publisher exploring the interplay between photography and other artistic media. They are committed to expanding the possibilities of the publication format through their approach to the photo book as a curatorial project that exists both on and off the printed page. This commitment to the expanded role of the photographic object inspired their new brick-and-mortar Los Angeles space, The Fulcrum, which will bring together local, national and international artists working in photography and provide a single site for books, lectures, exhibitions and classes open to the local community.

Edition One Books works with design professionals, photographers, artists and other creative types to manufacture highly customized, top-quality books. They are focused on building longterm relationships with their customers, and strive to offer a more personalized book production service for small to medium runs.

Check out our 2020 Publishing Grant to see publishers we have supported in the past!



SPONSORS


Supporting Sponsors:
Chronicle Books, RITE Editions, San Francsico Center for the Book, Gold Collective and Chroma.

Media Sponsor:.
Hyperallergic and KQED

In-kind Sponsors:
Shapco Printing, CULK, Edition One, Lightsource SF, Swissnex San Francisco, Swiss Arts Council ProHelvetia, Liquid Death, Fort Point Beer Company and Dad Grass.

Special Thanks:
Deborah and Andy Rappaport, Anglim Trimble, bitforms gallery, Buddy, True Laurel, Bar Part Time, Casemore Kirkeby and the San Francisco Arts Eductation Project.

THE 2020 SFABF PUBLISHING GRANT
The San Francisco Art Book Fair (SFABF) is thrilled to announce the recipients of the 2020 SFABF Publishing Grant:
Sming Sming, BlackMass Publishing, Melissa Sáenz Gordon, Sun Night Editions, Unity Press, Dale Press, The Bettys, Felicita Maynard, Sharita Towne, The Free Black Women's Library, Brown Recluse, 3 Dot Zine, Homie House Press, WORK/PLAY, and Black Chalk & Co.
The
2020 SFABF Publishing Grant
was made possible due to the generous support of
Dropbox, Figma, Adobe and Chronicle Books
. It was awarded to 15 BIPOC publishers nominated and selected by a committee made up of
Paul John Jr.
of Endless Editions,
Lukaza Branfman-Verissimo
and a representative of SFABF. While we were unable to host a fair in 2020, SFABF hopes that these grants will help support our publishing community.
Sun Night Editions
is a fine art print publishing house in West Oakland, CA run by Yoni Asega and Drew Grasso. Sun Night was founded in 2019 with the overall goal of connecting artists of all mediums with their community through the power of print. The publishing house aims to bridge the gap from artists to collectors, institutions and non-profits. The shop provides artists the ability to create works in the traditional and contemporary screen printing, relief printing, monotype and bookbinding techniques. Over the past year they have published the prints of artists who not only work in a wide variety of mediums but come from different backgrounds. Sun Night Editions has concerned itself with sustaining and strengthening the diversity essential to any viable movement toward the liberation of all people. Image: Yétúndé Olágbajú, ♾, ed. of 30, 16x20, 100lb cougar white, singed and numbered, 2020 25% of proceeds go to People's Breakfast of Oakland. Purchase online at
Sun Night Editions
.
Sming Sming Books
is the publishing studio of artist Vivian Sming, experimenting with books as art, discourse, exhibition, and archive. Formed in 2017, the studio designs and publishes a wide range of artists' books, zines, and editions out of close collaboration with artists whose works and ideas inform design, material, and printing choices. Sming Sming Books is invested in creating books from practices that are challenging to represent on paper. They are committed to promoting critical discourse and advancing cultural equity through the format of publishing.
Unity
is a print space, small press, and queer skateboarding project based in Oakland, CA. Their efforts are centered on supporting publications by queer + trans people and POC. Unity also aims to make printing resources accessible for local communities.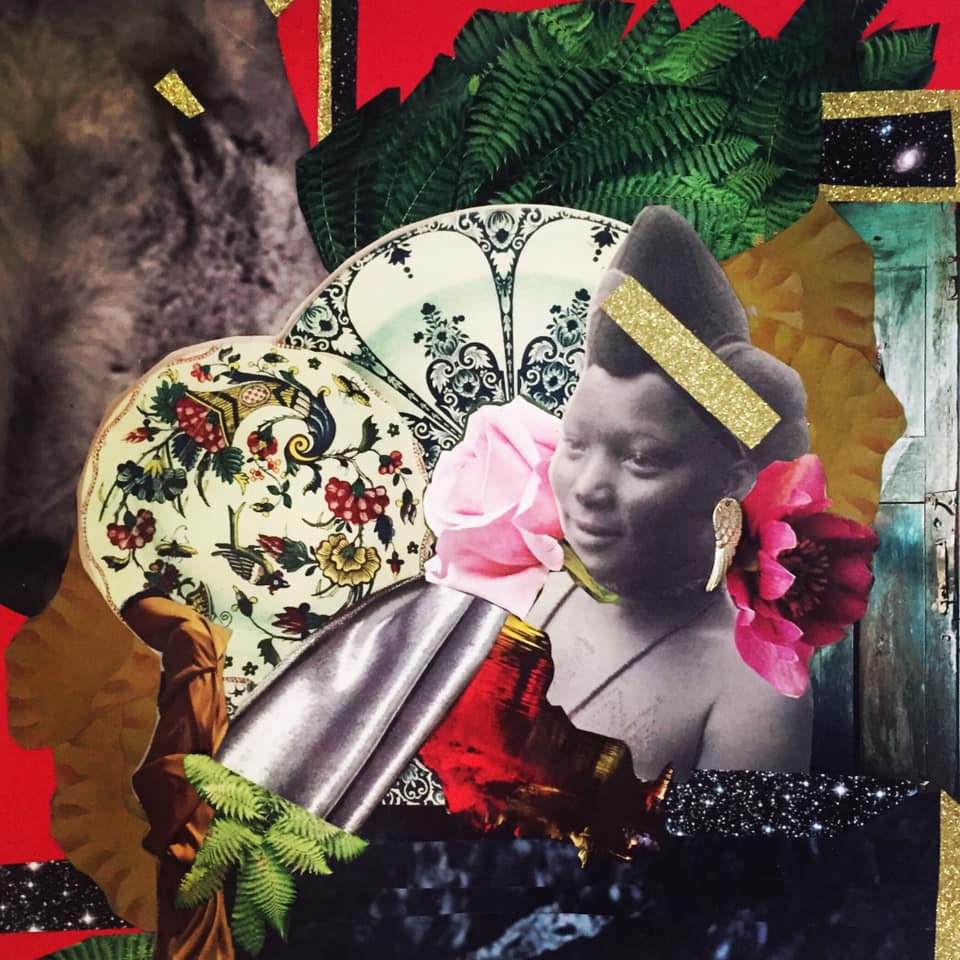 OlaRonke Akinmowo is a Black feminist nerd, award-winning set decorator and interdisciplinary artist who makes hand-cut collages, one-of-a-kind monotypes, handmade paper, stop-motion animations and interactive installations. She is also the creator and director of
The Free Black Women's Library
, a social art project and mobile library that features a collection of 3,000 books written by Black women. The library pops up monthly in free public spaces throughout NYC, and sometimes it even travels outside of NYC. The library activates these spaces through interactive workshops, performances, games, book discussions and radical conversations. All ages, races and genders are welcome to come to spend time in the library, take part in all events and trade books written by Black women with the collection. She is deeply invested in creating beautiful spaces and counternarratives around race, culture and gender, that are rooted in ritual, tenderness and community care. Ola has received fellowships and grants from various institutions such as Brooklyn Arts Council, The Laundromat Project, Culture Push, The Robert Blackburn Printmaking Shop and the New York Foundation of the Arts. She is a single mom of one child and several plants, living and loving in her hometown, the village known as Bedstuy, Brooklyn.
BlackMass Publishing
was founded by New York-based artist Yusuf Hassan, though its beginnings lie in a project devised by Hassan and a handful of fellow artists, in which they combined their practices in a printed, spiral-bound edition. The book, titled
Project BlackMass
, never went to press, but it was quickly acquired by the Schomburg Center for Research in Black Studies. The publisher has gone on to produce zines and books by Black artists, with visuals, prose and poetry, many of which have also been acquired by various collecting institutions. They take an experimental, improvisational approach to visual language and pay particular attention to the physicality of their projects. "My rule is, I'll print on anything as long as it'll feed through the printer," says Hassan. In recent months, frequent collaborator and founding member Kwamé Sorrell launched an international mail-art initiative to continue and expand the conversation around Black art across the diaspora. Hassan and Sorrell continue to work in tandem in developing programming around Black storytelling through print media.
Devin N. Morris is a Brooklyn-based artist interested in abstracting American life and subverting traditional value systems through the exploration of identity, memory, and grief in mixed-media paintings, photographs, writings and video. Morris was recently in
The Aesthetics of Matter
, the first NYC curatorial project by Deux Femme Noires: Mickalene Thomas and Racquel Chevremont. He was also featured in the New Museum's
MOTHA and Chris E. Vargas: Consciousness Razing—The Stonewall Re-Memorialization Project
, and the two-person show
Inside, Out Here
at La MaMa Galleria, curated by Eric Booker (exhibition coordinator at the Studio Museum). Morris is the founder of
3 Dot Zine
, an annual publication that serves as a forum for marginalized concerns. 3 Dot Zine recently hosted the Brown Paper Zine & Small Press Fair with the Studio Museum in Harlem and created a site-specific installation at the MoMA PS1 2018 NY Art Book Fair.
Dale Zine
, established 2009 in Miami, is an independent printer and publisher with the goal of giving a platform to multimedia artists and designers. With humble beginnings as a zine collaboration about Garfield, Dale has broadened into something of an open cultural space for the Miami community, with offerings ranging from all-age zine workshops to our independent radio show, pop-up events, and most recently a storefront in Downtown Miami. Collaborations of note include those with Tim Biskup, Matt Furie, Legowelt, Friendswithyou, to name just a few of our over their 75 titles and counting.
Felicita "Felli" Maynard
is a New York City-based interdisciplinary artist and educator. They received their BFA from Brooklyn College, with a concentration in film photography. As a first generation Afrolatinx-American, their work uses photography to investigate and explore identity, gender, and history when related to the Black body. They challenge and re-write history by means of their work. Maynard has shown work at the African American Museum in Philadelphia, Westchester Community College, Spectrum Gallery at MCLA college, Brooklyn Photoville and Pen + Brush Gallery. Maynard is currently a Queer | Art Mentorship Fellow working with photographer Lola Flash, a Smack Mellon Art Ready Mentor and a teaching assistant at the Penumbra Foundation.
WORK/PLAY
is an interdisciplinary design/art duo based in St. Louis, Missouri started by Danielle and Kevin McCoy. Kevin received a BFA in Graphic Communication from the University of Missouri-St. Louis and his MFA from the Sam Fox School of Design and Visual Arts, Washington University in St. Louis. Danielle is a conceptual artist, writer, and educator. Together, they rely on a personal archive of unfamiliar information, redacted histories, and images from popular culture to explore racial inequality, identity, and erasure. The duo has exhibited both locally and nationally.
America's Mythic Time
, The Luminary, St. Louis, MO;
Small Talk
at Crystal Bridges Museum of American Art, Bentonville, AR;
SPF 1991
at projects+gallery, St. Louis, MO;
Dream Wavers
at Laband Gallery, Loyola Marymount University, Los Angeles, CA;
Overview is a Place
at SPRING/BREAK Art Show in New York, New York, NY;
Change of State
at The Wassaic Projects in Wassaic, NY. Recent book fairs include Printed Matter's LA Art Book Fair in Los Angeles, CA; Chicago Art Book Fair in Chicago, IL; Small Press Expo in St. Louis, MO; Fully Booked Art Fair in Dubai, UAE and Engaged Edition in New York, NY.
Adriana Monsalve and Caterina Ragg spearhead the multifaceted space of
Homie House Press
. They are a skeleton crew of femmes creating and publishing in the foto book medium. They are photographers, book makers, and educators holding space for and with underrepresented communities. They are a playground where fotos become books, a safe space for secret stories and an open house for honest content. Find them migrating through the in-betweenness of all that we are.
Sharita Towne
is a multidisciplinary artist and educator based in Portland, OR. Born and raised on the West Coast of the U.S. along Interstate 5 from Salem, OR, to Tacoma, WA and down to Sacramento, CA, Sharita is a true granddaughter of the great migration. She is most interested in engaging local and global Black geographies, histories, and possibilities. In her work, a shared art penetrates and binds people–artists, audience, organizers, civic structures, sisters, cousins, and landscape–in collective catharsis, grief, and joy. Sharita holds a BA from UC Berkeley, an MFA from Portland State University, and was recently appointed Program Head of the Pacific Northwest College of Art's MFA in Visual Studies. She self-publishes under the collaborative project
URe:AD Press
(United Re:Public of the African Diaspora).
Founded in 2015,
Black Chalk & Co
. is a creative agency bringing together writers, artists, designers, academics, and technologists with a mutual interest in publishing, curating conversations and exhibitions, and facilitating teaching residencies. What animates all these activities is the effort to engender a new culture and new forms of publishing and creative production. Their work has led to a run of synchronized events, screenings, and public talks. The founding partners, Tinashe Mushakavanhu and Nontsikelelo Mutiti, operate between Harare and Richmond, VA. Image:
SOME WRITERS CAN GIVE YOU TWO HEARTBEATS
This limited edition paperback was printed in 2019 at Cassochrome in Belgium. The publication is 5.5 x 8 inches with 258 pages. ISBN: 978-0-7974-9573-9.
The Bettys
is an innovative art community concept founded by Salvadoran-American Aurora Diaz in 2014. Throughout its tenure, The Bettys has been an outlet for authentic and experimental creative environments. The Bettys has shown at multiple art book/zine fairs across America, distributing and collaborating with emerging artists whose intersections make it harder to be in the rich cis-man's world more commonly referred to as 'The Art World.'
Melissa Sáenz Gordon
is a cultural worker, editor, and photographer based in Ridgewood, Queens. In 2020, she co-founded Soft Power Vote, an independent civic engagement initiative centered on NYC politics. For over 15 years, Melissa has documented the nuance of everyday life through film photography, a practice born out of preserving the cultural landscape of San Francisco, her hometown. Melissa understands the social impact and power of representation and utilizes the camera as a tool for social justice. Her work has been featured in Remezcla, SFMOMA's Open Space, and Whetstone Magazine. She's participated in the Press Play Fair hosted by Pioneer Works, New Latin Wave Festival, Brooklyn Art Book Fair, and the Los Angeles Art Book Fair by Printed Matter.
Brown Recluse
is a collectively run zine distro for Black, Indigenous, People of Color based on Ohlone lands. This project was born out of passion for zines and frustration at the lack of representation and meaningful zine material for BIPOC. This project is a collaboration by QTBIPOC directly to QTBIPOC, connecting marginalized voices to marginalized readers. Their aim is to disseminate print media affordably and effectively to communities of color, strengthening our ties and highlighting our intersectional, relatable experiences.

FUNDRAISING EDITIONS FOR BLACK LIVES MATTER GLOBAL NETWORK